The Orlando Wetlands Park is located on 1,650 acres in Christmas, Florida, east of Orlando about 27 miles and west of Titusville, which is on the Atlantic Coast, about ten miles as the crow flies.
It was created as an effluent disposal facility to reuse highly treated wastewater from a regional treatment facility. Up to 35 million gallons a day of reclaimed wastewater can be pumped 17 miles through a four foot diameter pipe and distributed among the three wetland communities in the Park that remove nitrogen and phosphorous from the water.
Former pasture land was planted with 200,000 trees and 2.3 million aquatic plants into areas that include a 100 acre lake, deep marsh, mixed marsh, wet prairie and cypress - hardwood swamps. After a 40 day journey through the Orlando Wetlands, the reclaimed water drains into the St. John's River with 64% of the nitrogen and 74% of the phosphorous removed from it.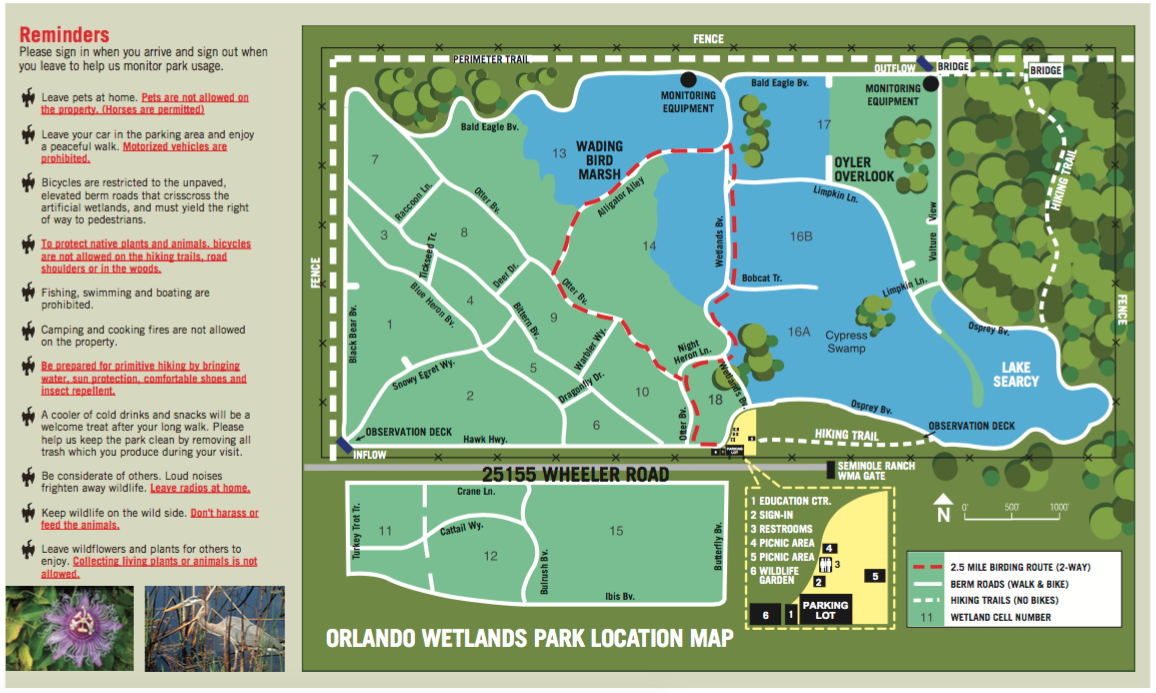 Here are photos of some of the wildlife I saw in January 2018 when I visited:
There are lots of alligators. If you want to see alligators, this is a great place.
Alligator Alley did have alligators along it.
This is not Alligator Alley, but this stretch had alligators all along it, like the one in the foreground.
I liked this 'gator, semi-hiding in the foliage.
One particular area along the lake had lots of turtles. I believe this is a Florida red-bellied cooter.
As is this one.
There is an area known for where roseate spoonbills congregate, but it is very far away. This is a photo with a 500 mm lense.
Here is a cropped version of the same photo. Orlando Wetlands is not a great place if you are looking for spoonbills.
There is a resident bald eagle with a nest, but this is a highly cropped photo with my zoom lense. As a wildlife area Orlando Wetlands tends to provide views that are very far away. At Merritt Island NWR you tend to get closer because you are in a car and don't scare the wildlife away. At Circle B Bar Reserve everything is on a smaller scale and you get closer. Here everything is by foot and there is a lot of room for the wildlife to stay away from you.
A turkey vulture.
There were lots of black vultures. Aside from the Anhinga Trail in Everglades NP, this is the best view of black vultures I've had.
Two black vultures in a moss covered tree - almost Halloween-like.
This is a view of wood storks from Oyler Overlook, a man-made hill in the Park. Again, very far away.
Here is a cropped version from my telephoto.
These beautiful Caspian terns, however, were right in front of us. This is the first time I'd seen them. I've only seen Caspian terns one other time since, but from much further away. This was probably my favorite sighting in the Park.
A common gallinule.
And one of my favorites, a purple gallinule.
A little blue heron.
A juvenile little blue heron.
Great blue heron
Green heron
Snowy egret
Glossy ibis. A bird I love and only see rarely.
Another glossy ibis.
An American white ibis.
Pied-billed grebe
Anhinga, or American darter.
Anhinga
Overall, the Orlando Wetlands is a great place, but takes lots of time because the distances are great and you are walking. The wildlife also tends to be at long distances. So, unless you are looking for alligators, or perhaps turtles, Merritt Island NWR and
Circle B Bar Reserve
are better alternatives and relatively close.